Handmade decorative dolls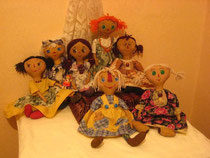 Welcome to Landitania – the magical world of rag dolls!!!
Many people enjoy having a doll especially if it is a unique piece of art that is handmade in a single exemplar. Creating such dolls involves making numerous decisions regarding every single detail; every stitch, every bead, and every button – that all determines the doll's personality and character. As any other piece of art, created dolls have a piece of their creator's soul.
The Rag Doll is returning back becoming fashionable. Apart from being just a toy, it often appears as a decorative detail in various interiors. Moreover, it is a very original gift for many people.
Speaking of gift dolls, there is a number of different styles and types such as Raggedy Ann, Teddy, Tilda, and etc! You can always find the most appropriate doll to give to the person you care about!
More information about my hobby you can find choosing About me from the menu. Please, go to the Gallery to see my creations. If you find something interesting that you would like to purchase, please click then on Contact me. And, of course, feel free to leave your comments in My guestbook.